Oasis: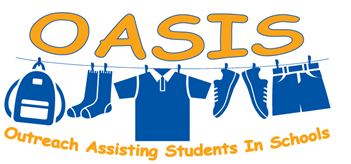 Oasis Clothing Closest is a free clothing option for students of Hillsborough County Schools that is accessed by the school social workers only.
The social worker at your school will collect information about clothing sizes and clothing style and then shop for you! They will bring these items back to school for you to take home. Contact the social worker at your school to ask for clothing assistance or reach out to Berkeley Academy for more help.
Visit their website HERE!
Clothes to Kids:
__________________________
Contact: Pastor Juan Garcia, (813) 908-0893
5808 Lynn Rd, Tampa, FL 33624
http://www.myextraordinarylifechurch.com
Services:
Meat and canned goods pantry
Bedding
Feminine products
Hygiene products
Financial assistance for bus passes (work related)
Clothes pantry (including interview clothes)
School supplies/uniforms
Sponsorship of family
If you do not have transportation, they also deliver resources.
Either email pastorjuanhhim@yahoo.com to let him know you're coming in (you may mention that you were referred by the Berkeley Academy, but you do not need to) or just walk-in. You must show I.D. and complete a written form.
__________________________